The Foaden Family
Alfred Harry Foaden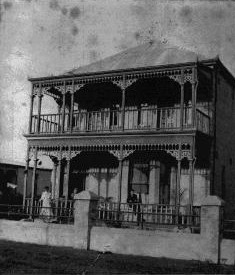 Photograph from Esme Fuller

known as "Harry"

15 May 1856, at North Street, Ashburton, Devon, England
John Foaden

Sarah (Dolling) Foaden

Mary Ann Frances Tyzack on 20 February 1883, at Chelmsford House (the residence of the bride's father), Durban, Natal
Alfred Harry Foaden is recorded as a bachelor of full age. He is a warehouseman, resident in Durban. Mary Ann Frances Tyzack is recorded as spinster, of full age, resident in Durban. The marriage was performed by W. H. Mann, Congregational minister, and witnessed by R. W. Tyzack, Edw. Pickering, Mayor of Durban, Kate Robertson, J. G. Tyzack, R. J. W. Tyzack and E. J. Stranack.


Natal Witness

27 February 1883
Foaden,Tyzack,20-Feb-1883,27-Feb-1883,
At Chelmsford House Durban, the residence of the bride's father by the Rev W H Mann, Alfred Harry second son of the late John Foaden Esq. Of Ashburton, Devonshire, England to - Mary Ann Frances, third daughter of Mr E W Tyzack of Durban

Draper and Mercer (1881), Warehouseman (1883). On 8 April 1889 was appointed Assistant Accountant on the staff of the Engineer-in-Chief of the Natal Government Railways with an annual salary of £225 (

Natal Departmental Reports

1891-92 pC97).

In 1890, Harry was a member of the Pietermaritzburg Savages Football Club. In 1897, Harry was a foundation member of the re-constituted Durban Turf Club and was appointed honorary secretary

pro tem

(

Twentieth Century Impressions of Natal

p536).
1856: North Street, Ashburton, Devon (birth certificate)
1861: Mulberry Cottage, Ashburton, Devon
1871: West Street, Ashburton, Devon
1881: West Street, Ashburton, Devon
1883: Durban, Natal (marriage certificate)
1897: 54 St Andrew's Street, Durban, Natal (

Natal Almanac & Directory 1897

p137)
1899: 116 St. George's Street, Durban, Natal
1916: 88 North Ridge Road, Durban, Natal (from death record of son Frank)


---
Clara Foaden
1852, in Ashburton, Devon, England
John Foaden

Sarah (Dolling) Foaden

1925, in Lewisham district, London, England, aged 72
1861: Mulberry Cottage, Ashburton, Devon
1871: Widecombe in the Moor, Devon
1881: Villa Francia, Wolborough with Newton Abbot, Devon
1891: Lewisham, London: Clara Foadian, sister-in-law, is aged 38, born in Ashburton, Devon
1901: Lewisham, London: Clara Foaden, sister, is aged 48, born in Ashburton, Devon. She is Living on Means.
1911: Lewisham, London: Clara Foaden is aged 58, born in Ashburton, Devon


England Birth Index (4Q1852 Newton A vol 5b p135); exact place from 1861 census
England Death Index (2Q1852 Lewisham vol 1d p954)
---
Edgar Foaden
1849, in Ashburton, Devon, England
John Foaden

Sarah (Dolling) Foaden
1861: Mulberry Cottage, Ashburton, Devon


England Birth Index (1Q1849 vol 10 p146); exact place from 1861 census
---
Edgar Foaden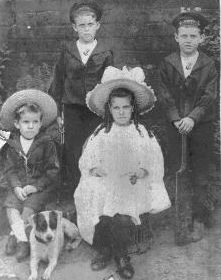 Photograph from Esme Fuller

1887/8, in Pietermaritzburg, Natal
Alfred Harry Foaden

Mary Ann Frances (Tyzack) Foaden

Vera Winifred Blades on 5 December 1914, in St Pauls Church, Durban, Natal, South Africa
Edgar Foaden is recorded as a bachelor, of full age. He is a civil servant, resident in Durban. Vera Winifred Blades is recorded as a spinster, of full age, resident in Durban.The marriage was performed by Francis Robinson, vicar of St Marys, Durban, and witnessed by Clara Blades and Rubina Cook.

Vera was born in Johannesburg, Transvaal, and died in 1966.

Civil Servant.

1962

Twin brother of George Foaden


---
Frank Foaden
1891/2
Alfred Harry Foaden

Mary Ann Frances (Tyzack) Foaden

Frank was a private in the South African Infantry ("B" Company, 2nd Regt) during World War I. He served in German West Africa and Egypt and then in France where he died in the Battle of Delville Wood. Another account of the tragic few days in which 2,398 of the 3,153 South Africans who entered the wood died, can be found here.

18 July 1916, aged 24, at Delville Wood, France

Thiepval Memorial, France. His name is found on the Pier and Face 4C. Frank is most likely buried in the Delville Wood Cemetery which contains 5,493 burials, almost two-third of which are unknown.


---
George Foaden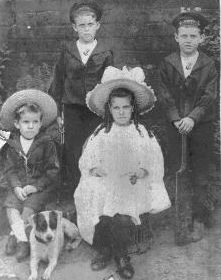 Photograph from Esme Fuller

1887/8, in Pietermaritzburg, Natal

Alfred Harry Foaden

Mary Ann Frances (Tyzack) Foaden

Lillian Florabelle Tonkin on 29 October 1919, in St Mary's Church, Greyville, Durban, Natal, South Africa
George Foaden is recorded as a bachelor, aged 31. He is a clerk, resident at 120 Madeline Rd, Durban. Lilian Florabelle Tonkin is recorded as a spinster, aged 30, resident at 10th Avenue, Durban. The marriage was performed by Francis Robinson and witnessed by H. Tonkin and L. W. B??.

Lilian was born in 1888/9.

Clerk

1945

Twin brother of Edgar Foaden


---
Herbert Foaden
1858, in Ashburton, Devon, England
John Foaden

Sarah (Dolling) Foaden
1861: Mulberry Cottage, Ashburton, Devon
1871: West Street, Ashburton, Devon
1881: West Street, Ashburton, Devon


England Birth Index (2Q1858 vol 5b p130); exact place from 1861, 1881 census
---
John Foaden
1814 in Ashburton, Devon, England

10 June 1814, in Ashburton, Devon, England
Thomas Foaden
Ann (Easton) Foaden
Sarah Dolling on 22 June 1843, in the Parish Church, Ashburton, Devon, England.
The marriage was witnessed by Thomas Dolling and Emma Foaden. John is recorded as a woolcomber, a bachelor, of full age, of Ashburton, the son of Thomas Foaden, an inn-keeper. Sarah is recorded as a spinster, of full age, of Ashburton, the daughter of Thomas Dolling, yeoman.
Emily Collins in 1867 in St Thomas district, Devon, England
Emily was born in 1840, in Exeter St Martin, Devon. In 1891 she was employed as a housekeeper. She married, secondly, George Atkins in 1894 in Exeter district. George died in 1899 in Plymouth district, aged 72. Emily died in 1932 in Plymouth district, Devon, aged 91.
Census:
1891: West Street London Hotel, Ashburton, Devon
1901: Plymouth, Devon: Emily Atkins is aged 59, born in Exeter, Devon. She is Living on Own Means.
1911: Plymouth, Devon. Emily Atkins, head, is aged 70, born in Exeter.

Woolcomber (1843), then Relieving Officer, Registrar of Births, Deaths and Marriages and Insurance Agent. A Relieving Officer was the person responsible for the distribution of parish relief.



History, Gazetteer & Directory of Devon, 1850

lists in Ashburton:
North Street Foaden John, relieving officer

The 1870 Morris and Co.'s Commercial Directory and Gazetteer lists, in Ashburton:
Foaden John, relieving officer, registrar of births, deaths, and marriages, and agent for the Clerical, Medical, and General Life, and the Manchester Fire Insurance Companies, West street


History, Gazetteer & Directory of Devon, 1878-79

lists in Ashburton:
Foaden John, stamp distributor, and agent for Clerical, Medical, and General Insurance Company, West Street
28 October 1878, at West Street, Ashburton, Devon, England, aged 64. The cause of death is listed as (a) Uremic poisoning from Kidney disease (b) Apoplexy

1841: Ashburton, Devon: John Foaden is aged 25 (rounded down to the nearest 5 years), born in Devon
1850: North Street, Ashburton, Devon (

History, Gazetteer & Directory of Devon, 1850)


1851: John Foaden, head, is aged 26, born in Ashburton, Devon
1856: North Street, Ashburton, Devon (birth certificate of son Alfred)
1861: Mulberry Cottage, Ashburton, Devon
1870: West Street, Ashburton, Devon (Morris and Co.'s Commercial Directory and Gazetteer)
1871: West Street, Ashburton, Devon
1878: West Street, Ashburton, Devon (History, Gazetteer & Directory of Devon; death certificate)

1861 census
IGI baptism extracts batch C050201

Marriage certificate; England Marriage Index (2Q1843 Newton Abbot vol 10 p236)
England Marriage Index (2Q1867 St. Thomas vol 5b p103); Emily birth from England Birth Index (4Q1840 Exeter vol 10 p76) with exact place from 1871 census; Emily 2nd marriage from England Marriage Index (3Q1894 Exeter vol 5b p127); George death from England Death Index (2Q1899 Plymouth vol 5b p165); Emily death from England Death Index (2Q1932 Plymouth vol 5b p365)

Birth certificate of son Alfred (1856); 1861, 1871 census; death certificate
Death Certificate; England Death Index (4Q1878 vol 5b p101)
---
John Foaden
1851, in Ashburton, Devon, England
John Foaden

Sarah (Dolling) Foaden
1861: Mulberry Cottage, Ashburton, Devon


England Birth Index (1Q1851 vol 10 p139); exact place from 1861 census
---
May (Foaden) Ford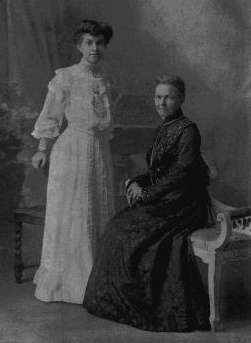 Photograph from Esme Fuller

circa 1885, in Pietermaritzburg, Natal

Alfred Harry Foaden

Mary Ann Frances (Tyzack) Foaden

Joseph Clifford Ford on 18 February 1911 in the Congregational Church, Florida Road, Durban, Natal, South Africa
Joseph Clifford Ford is recorded as a bachelor, of full age. He is a coach builder, resident in Maritzburg. May Foaden is recorded as a spinster, of full age, resident in Durban. The marriage was witnessed by ? White and Edgar Foaden.


1959

In 1899, May gained a first-class certificate in an Art examination in Freehand Drawing - Elementary stage. At the time she was attended the Durban Girls Model School, but instructed in art at the Durban Government Art School (

Departmental Reports 1899

pG35)


Esme Fuller gives a date of 1882 (from memory), but I believe this is off based on the combination of her brother Frank's birthdate, between July 1891 and July 1892, derived from his age at death in relatively reliable military records, and the family photograph (see Frank Foaden) in which I believe May is about 6 or 7 years older than Frank.; place from estate record
Natal Civil Marriages 1911#25
National Archives of South Africa catalogue (Pietermaritzburg Archives Repository) Ref: 1515/1959; Text: FORD, MAY. (BORN FOADEN). BORN IN PIETERMARITZBURG. S/SP FORD, JOSEPH CLIFFORD. DECEASED ESTATE.. STARTING 19590000 ENDING 19600000; death notice of Joseph Clifford Ford
---
Sarah Catherine Foaden
1854, in Ashburton, Devon, England
John Foaden

Sarah (Dolling) Foaden
1861: Mulberry Cottage, Ashburton, Devon
1881: West Street, Ashburton, Devon


England Birth Index (2Q1854 vol 5b p135); exact place from 1861, 1881 census
---
Thomas Foaden
Ann Easton on 18 November 1813, in Ashburton, Devon, England
Innkeeper at the Sun Inn, Ashburton

---
Thomas Foaden
12 October 1815, in Ashburton, Devon, England
Thomas Foaden
Ann (Easton) Foaden

IGI baptism extracts batch C050201

---
Return to Chris Gosnell's Home Page
Return to Chris Gosnell's Genealogy Page

If you have any comments, additions or modifications to the information on this page, please feel free to email me.


Created and maintained by:

chris@ocotilloroad.com