The Brett Family
Edward Brett

1796, in Wakes Colne, Essex, England

William Brett

Mary (Sturgeon) Brett. Mary was the sister of Elizabeth Sturgeon, who married Rev. Shaw King.

Colchester; Pembroke College, Cambridge, where Edward was admitted on 18 June 1814.


Alumni Cantabrigiensis




Brett, Edward.


Adm. pens. (age 18) at PEMBROKE, June 18, 1814. S. of Edward, Esq., of Colne, Essex. B. there.
Matric. Michs. 1814.

Elizabeth Havens on 4 September 1823, at Rowhedge, Essex, England.


Magistrate for Essex

1873, in Lexden district, Essex, England, aged 77

Edward owned a house named Wakes Colne Place. The house was sold by Edward's son on 15 July 1887. The sale brochure describes gardens which included brick built melon pits, exceptionally fine old forest trees and choice fruit trees in full bearing. The house was "located in a favoured district for Field Sports, within easy reach of several Packs of Hounds and near good fishing in the rivers Colne and Stour - a very attractive opportunity...for the immediate occupation of a family of position."



The county families of the United Kingdom

(1860) p73


BRETT, Edward, Esq. (of Wakes Colne).


Second but eldest surviving son of the late William Brett, Esq., by Mary, dau. of William Sturgeon, Esq., of Tollesbury, Essex ; b. 1796 ; s. 1813 ; m. 1823 Elizabeth, dau. of Philip Havens, Esq., of Donyland Hall. Educated at Colchester and Pembroke Coll., Cambridge; is a Magistrate for Essex.
— Wakes-Colne Place, near Halstead, Essex.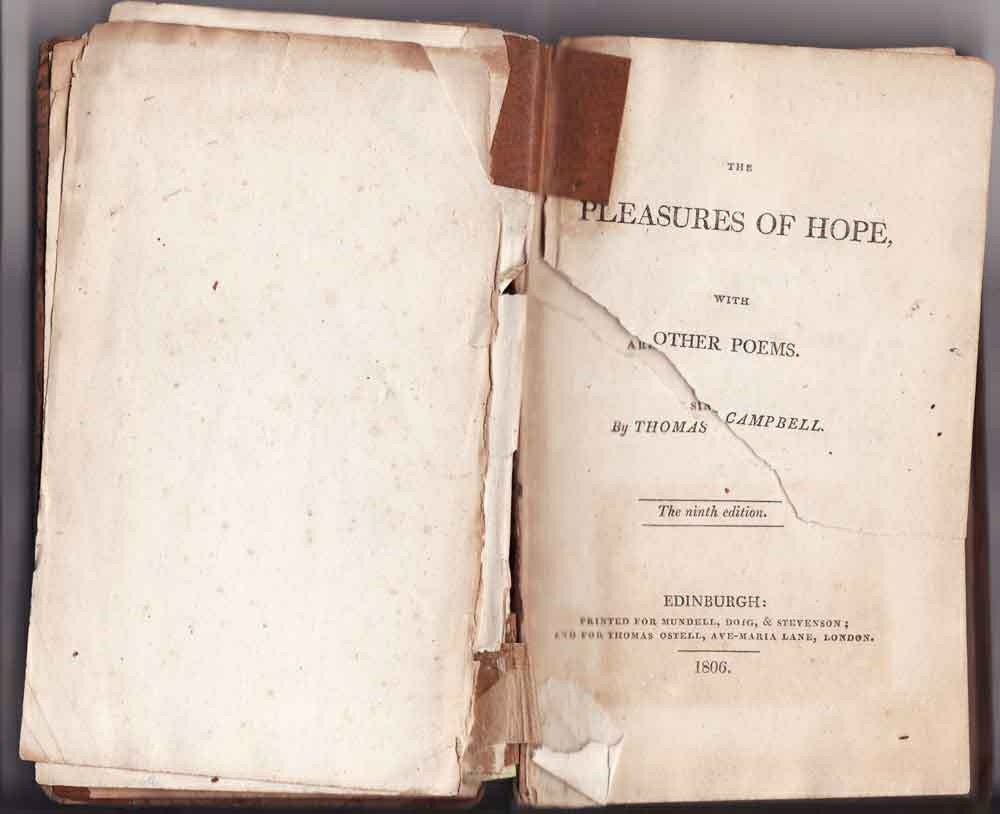 image from Mike Poyzer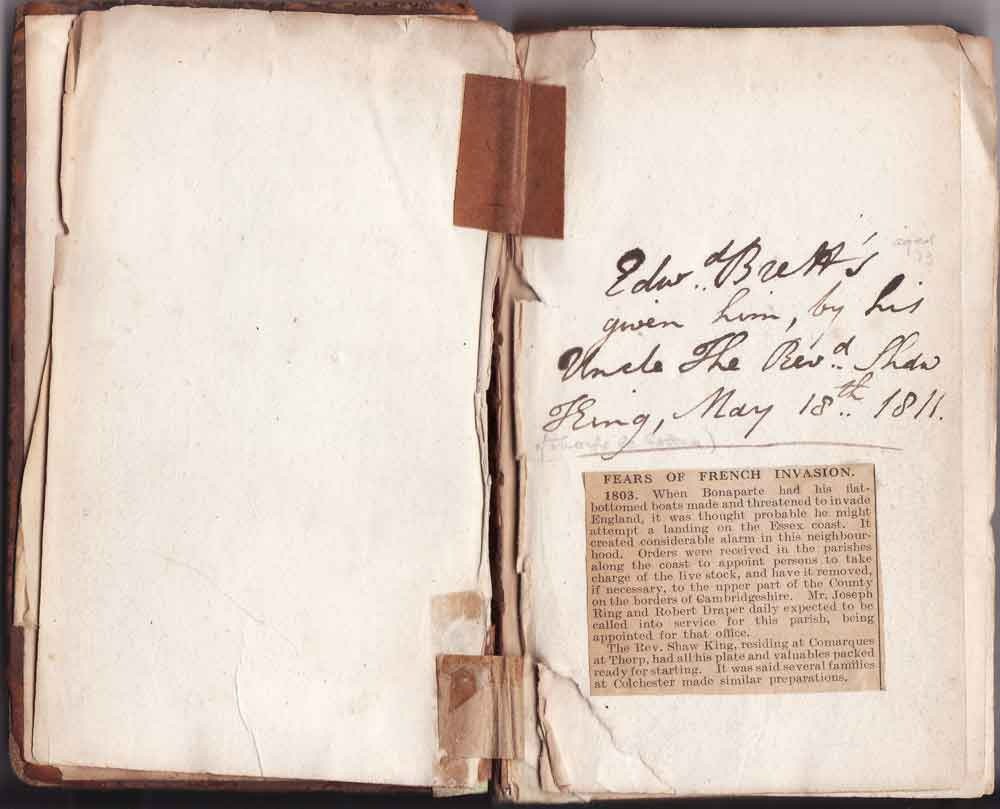 image from Mike Poyzer

Edward is mentioned in the will of his aunt, Elizabeth (Sturgeon) King, who married Rev. Shaw King. Edward also received a book,

The Pleasures of Hope with Other Poems

by Thomas Campbell (1806) from Shaw King in 1811. It is unclear if the inscription shown was written by Shaw King or by Edward Brett.


1841: Wakes Colne, Essex
1861: Eda Brett is aged 64 born in Wakes Colne
1871: Wakes Colne, Essex


---
Edward Bryan Brett

8 September 1885, in Loddon district, Norfolk, England

28 October 1885 in Thwaite St Mary, Norfolk, England

George Russell Brett

Selina Mercy (Sellers) Brett


In August 1910, the 2nd. Gibraltar Boy Scout Troop was formed by members of the Eastern Telegraph Company with William Arthur Adams as Scoutmaster and Edward Bryan Brett as Assistant Scoutmaster.

Edward served in World War I as a Second Lieutenant with the Royal Army Service Corps. On 29 September 1918, Temporary Lieutenant E. B. Brett relinquished his commission on account of ill health contracted on active service and was granted the honorary rank of Lieutenant (

London Gazette

27 September 1918 p11508).


1901: Kent: Edward Bryan Brett is aged 15, born in Thwaite S Mary, Norfolk. Occupation: School Boy


---
Ethel Mary Brett

3 December 1881, in Loddon district, Norfolk, England

3 December 1881 in Thwaite St Mary, Norfolk, England

George Russell Brett

Selina Mercy (Sellers) Brett


1901: Devon: E M Brett is aged 19, born in Thwaite St Mary, Norfolk


---
Fanny Brett

1824/5, in Wakes Colne, Essex, England

Edward Brett

Elizabeth (Havens) Brett


1841: Wakes Colne, Essex
1871: Wakes Colne, Essex
1881: Colne Place, Wakes Colne, Essex
1901: Wivenhoe, Essex: Fanny Brett is aged 77, born in Wakes Colne


---
George Russell Brett

1835, in Wakes Colne, Essex, England

17 August 1835

Edward Brett

Elizabeth (Havens) Brett

St John's College, Cambridge, where George was admitted on 17 May 1854, and he obtained a B.A. in 1858.


Alumni Cantabrigiensis




Brett, George Russell.


Adm. pens. at ST JOHN'S, May 17, 1854. Of Essex. S. of Edward, Esq. [B. at Wakes Colne, Essex.] Bapt. Aug. 17, 1835. Matric. Michs. 1854; B.A. 1858. Ord. deacon, 1858; priest (Rochester) 1859; C. of Ovington with Tilbury, Essex, in 1859. C. of Metheringham, Lincs., 1863-4. R. of Thwaite, Norfolk, 1866-91. Died there Sept. 1, 1891. (

Eagle

.)

Selina Mercy Sellers in 1873, in Loddon district, Norfolk, England


Clergyman. George was ordained deacon in 1858 and priest in 1859. he was curate of Ovington with Tilbury, Essex in 1859, and curate of Metheringham, Lincolnshire from 1863-4, and rector of Thwaite, Norfolk from 1866 until his death in 1891.



Crockford's Clerical Directory

1872 p105


BRETT, George Russell,

Thwaite St Mary Rectory, Bungay

.- St. John's Coll. Cam. B.A. (Jun. Opt. and Theol. Trip.) 1858; Deac. 1858, Pr. 1859 by Bp. of Roch. R. of Thwaite St Mary, Dio. Nor. 1866. (Patron, Edward Brett, Esq., Glebe, 30 acres; Tithe, 179

l;

Gross Inc. 224

l

and Ho; Pop. 137.) Formerly С. of Metheringham, 1863-64.

1 September 1891, in Thwaite, Norfolk, England, aged 56


1841: Wakes Colne, Essex
1851: George Russel Brett is a pupil, aged 15, born in Wakes Colne, Essex
1881: Near the Church; Thwaite St Mary, Norfolk


1841 census and baptism date; place from 1881 census

Alumni Cantabrigiensis

Alumni Cantabrigiensis

Alumni Cantabrigiensis

transcribed at A Cambridge Alumni Database
England Marriage Index (3Q1873 Loddon vol 4b p351)


Crockford's Clerical Directory

1872 p105
England Death Index (3Q1891 Loddon vol 4b p129); exact date and place from

Alumni Cantabrigiensis
---
Herbert Brett

1837, in Wakes Colne, Essex, England

Edward Brett

Elizabeth (Havens) Brett

Ship's Captain. Herbert served on the Blackwall Line of Packets, commanding the

Agamemnon

and the

Anglesey

.



The Argus Supplement

(Melbourne, Australia): Friday 24 December 1869 p1S col 5


John Duckmin, seaman, charged with disobeying the orders of Herbert Brett, master of the Agamemnon, was sentenced to seven days' imprisonment.



In 1872-3, Herbert was captain of the

Anglesey

which sailed to Melbourne.


The Argus

(Melbourne, Australia): Monday 3 February 1873 p1 col 2
WE, the undersigned, saloon passengers of the ANGLESEY, desire to return our most grateful thanks to Captain HERBERT BRETT for the kindness and attention he has shown to us during the voyage.
We take leave of him now as a captain with whom wo should think ourselves fortunate to sail at any future time, and as a friend for whom we entertain the highest esteem and regard, and wish every success mid happiness
There remains but one more favour for us to ask of him - namely, that he will accept from us on our arrival in Melbourne some slight souvenir, which may sometimes remind him of his first voyage in the Anglesey.
A. Farries Huson Morris
M. Farries J. H, Parsons
M. A. M'Andrew H. A. Paul
J. J. Ball A. J. Paul
A. W. Dow T. Rigg
James Bentley Dymock Chas. G Sanders
N. Fluder Geo. H. Scougall
C. J. Goodman J. Sutton Gummers
D. M'Gillivray Alfred Williams.



The Argus

(Melbourne, Australia): Monday 3 February 1873 p1 col 3
BLACKWALL LINE of PACKETS.
For LONDON.
Will be despatched from the Sandridge Railway Pier
On THURSDAY, FFBRUARY 27,
The favourite clipper ship
ANGLESEY,
A1 at Lloyd's, 1100 tons,
H. BRETT (late of the Agamemnon), Commander, belonging to Messrs. Green, of Blackwall, owners of the Superb, Anglesey, Carlisle Castle, Highflyer Agamemnon, Newcastle, Renown, Shannon, The Lord Warden, &c.
Passages. -68, 75, 74, 71, 69, 69 days.
Last passage, 75 days.
The SALOON CABINS are fitted with cabin furniture, and are ROOMY, well ventilated and lighted.
Ladles' and gentlemen's bathrooms are provided.
A milch cow is carried.
The SECOND and THIRD CLASS accommodations are fitted with the utmost regard for the comfort and convenience of passengers. In the second-class mess utensils and steward's attendance are provided.
An experienced surgeon accompanies the ship.
For freight or passage, circulars, plans, &c., apply to J. H. WHITE and Co., agents, Collins-street west.



Index to the Captains Registers of Lloyd's of London


BRETT, Herbert b. Essex 1838 C23236 London 1870 vol.2 1870-1873; vol.16 no voyages listed

15 November 1875, in Lexden district, Essex, England, aged 38

The is a tablet to the memory of Herbert Brett in All Saints, Wakes Colne, Essex. The tablet is surmounted by an anchor and colied rope.


1841: Wakes Colne, Essex
1851: Herbert Brett is a pupil, aged 13, born in Wakes Colne, Essex
1861: Herbert Brett is aged 23, born in Wakes Colne


England Birth Index (3Q1837 Lexden vol 12 p90)

Memorial tablet
England Death Index (4Q1875 Lexden vol 4a p228)
---
William George Arthur Brett

16 July 1877, in Thwaite, Norfolk, England

24 August 1877 in Thwaite St Mary, Norfolk, England

George Russell Brett

Selina Mercy (Sellers) Brett

Merchant Taylor's School, Charterhouse Square, London, which he left in 1892.


Merchant Taylors' School register, 1871-1900

p349 (William Baker, 1907)


Brett, William George Arthur,

b. 16 July 1877, s. of George R. and Selina M., Clergyman, Bungay.
Left 1892.- Enlisted in 60th Rifles 1896; obtained commsn. in Duke of Wellington's Regt. 1900; transferred to Indian Army 1901; Lieut. 1902.


W. G. A. Brett, Esq., 76th Punjabis, Secunderabad, Deccan, 1ndia.



Army Officer in the British and Indian Armies.
William enlisted in the 60th Rifles in 1896. On 5 May 1900 William, then a Lance-Sergeant in the King's Royal Rifle Corps obtained his commission and was appointed second lieutenant in the Duke of Wellington's (West Riding) Regiment (

London Gazette

4 May 1900 p2846). William was promoted to lieutenant on 7 February 1902 (

London Gazette

1 August 1902 p4966), then transferred to the India Staff Corps on 2 July 1902 (

London Gazette

25 November 1902 p7941). William was promoted to captain in the 76th Punjabis on 19 May 1909 (

London Gazette

5 October 1909 p7357) and transferred to the temporary half-pay list on 1 October 1915 (

London Gazette

5 October 1915 p9774). He died in Devon in 1916, aged 37.

In April 1902, William participated in a hunt for a famed rogue elephant, Napier, that had rampaged in the region for over 12 years. The expedition is described by C.A. Rogers in an article "The Destruction of a Rogue Elephant in the Andamans." published in

The Indian Forester

vol 28 pp382-7
On the 24th April a party, consisting of Lieutenant W.G.A. Brett and Corporal W. Ward, both of the 2nd battalion of the Duke of Wellington's (West Riding) Regiment and myself, started from Port Blair in the steam launch

Eileen

for Shoal Bay, a creek about 18 miles north of Port Blair, into which the Jatang stream flows. The launch anchored off Pirij, another forest camp on the Shoal Bay Creek, and a rowing boat was ready to take us up the Jatang creek to the forest camp.
The weather was extremely hot and the sun simply poured down upon us as we slowly progressed up the wide creek, and then the narrow stream which succeeded it and meandered through a vast mangrove swamp, which while it kept off what little breeze there was, did not afford us any shelter from the sun's rays, and we were, indeed, glad when the boatmen laid aside their oars and took to stout bamboos, with which they poled us up the last mile of the stream. The tide was against us, which made our rate of progress more than usually slow. At last we reached the jetty guard, landed and walked over felled surjan (

Dipterocarpus

, sp.) logs to the hillock on which the camp was situated, and very glad we were to rest in the bamboo hut which serves as a forest rest-house.
The news about Napier was not at all reassuring. He had not been seen since the day that the police had fired volleys at him, and he had only been heard of once or twice since that date.
In the afternoon we carefully studied Sanderson's book

Twenty years among the Wild Beasts of India

, to learn what we could of the habits of elephants, also the shots by which they could be killed, and when the elephants returned from their work in the evening, studied then carefully in order to make sure of the vulnerable spots so clearly described by Sanderson.
The next thing to be done was to test the sighting of our rifles, so we put up a target with a black triangular bull's-eye marked as to represent the ear shot which Sanderson says is the most fatal one.
We were armed with Lee-Metford rifles, kindly lent by Captain P. A. Turner, commanding the detachment of the West Ridings stationed at Port Blair.
The target was put against a log about 30 yards off, as the jungle was too dense to allow of any long shot being obtained, and we knew that if we did get a shot at all it would be at close quarters, so we wished to see if the rifles threw high at such a short range. Some of the bullets had had their noses filed off so as to expose the lead core, and we wished to see if this in any way affected their trajectory. We each fired two bullets, one ordinary and the other with the nose filed off, and all six bullets pierced the bull's-eye, and satisfied us on the vital point as to the correctness of the sighting of our rifles at very short ranges. The bullets with the filed noses did not make any larger holes in the log of wood than did the Service ammunition.
Napier did not turn up at the camp during the night, but early the next morning news was brought in by the road-making file that his fresh footprints had been found in a stream about half a mile from the camp. We at once started for the spot, picked up the fresh tracks in a new clearing that had been recently made, and after some little search, found the place, but Napier had broken out of the clearing and had made off into the thick jungle. Two convicts Naingul and Pershadi, accompanied us, and, together with two Andamanese, picked up the tracks, and off we went. I must confess that the Andamanese did not take kindly to this form of tracking, and that the convicts who were familiar with the ways of tame elephants really did the tracking. After following the fresh tracks for about two hours, we crossed a stream at which Napier had evidently quenched his thirst, and soon after came into some fairly open bamboo forest where he had been feeding, and we were in great hopes of finding him still here. Our hopes were destined to be disappointed, as Napier was not in the bamboo forest; so we sat down, rested, and had some food, while Naingul and Pershadi went a ahead into the thick jungle which succeeded the bamboo forest, to see if they could find any tracks of the elephant. They returned in about half an hour with the welcome news that they had heard Napier; so we at once started in pursuit and arrived at the place where he had been seen. We could not see him, but only heard him crashing through the tangled mass of creepers and young saplings which constituted the forest just here.
The current report about Napier was that he charged you on sight; so we got behind the buttressed root of a large tree, near which we found ourselves, and awaited his onslaught. We heard him breaking down the saplings near us, but could not see him, and at last, as he did not seem to be coming nearer to us, we came out of our cover and followed after the noise he made crashing through the forest and soon got a glimpse of him. As we could not see his head we did not fire, but waited for him to turn on us. This he did not do, but suddenly turned and made off into the dense undergrowth once more. We followed in the lane he made, as the forest was elsewhere too dense for us to penetrate without cutting our way. The noise Napier made was tremendous, and the crashings of sapling and tearing of creepers was decidedly awe-inspiring. However, we could only follow him up in the path he had made for us, and this we did, and after about half an hour's chase we saw him again about 30 yards off, but could not get a clear shot at him. He turned as if to charge us, and Ward and myself covered him, but as neither of us were quite sure of our shots, and there were many branches between the elephant and us, any one of which might have turned our light bullets, we refrained from firing, as Napier thought better of his idea of charging us, and once more turned and made off into the tangled undergrowth. That was the last we saw of him that day. We followed him up for another half hour, and as we seemed to get no nearer to him, we abandoned the chase, pretty dead beat, about 1 o'clock, and, after a good long rest, proceeded wearily towards camp. Sugar had been put in our bottles containing tea by an inexperienced servant, so we had to choose between sweetened tea and such little pools of muddy water, and few and far between they were, with which to quench our thirst.
We reached camp about 3 o'clock and enjoyed such as only really thirsty men can, a long cool drink, followed by a hot bath and a siesta.
That evening, the 26th April, we were roused from our slumbers about 11 o'clock by the police guard, who had heard Napier in the jungle, near a small stockade which had been some time ago constructed with a view to entrapping him. This stockade was on the far side of the nullah and close to where Napier had stood when the police fired at him on the 14th April 1902. A pit had been dug across its entrance for Napier's benefit.
There was a bright moon, so we got up and waited for Napier to cross the nullah and come towards the large enclosure in which the tame elephants were picketted. We waited in vain. Napier remained in the shadow of the trees on the far side of the nullah, amused himself by breaking down trees and digging up ant-hills, but would not come into the open, and disappeared into the thick jungle just before day broke. He must have followed along the track we returned to camp by, probably out of curiosity.
The next morning we went to see where Napier had stood and what trees he had broken down. The trees were at the entrance of the pitted stockade above referred to, so we decided to tie up a tame elephant inside the stockade and to sit up all night with her in case Napier, who was reported to be "

must

," should be tempted to try and enter the stockade, when he would have fallen into the pit. The stockade and pit had been made about a year ago, and creepers had grown all over the bamboo trelliswork which had been put over its mouth, and it was very hard to say where the firm ground ended and the pit began. The moon would rise about 9 p.m., so we had an early dinner and were in the stockade at sunset, ready for a night long watch. We had whitened the sights of our rifles with slaked lime, which made them fairly visible when the moon was bright. Each was to take a two-hour watch and was to awaken the sleepers, should their be any, if Napier turned up. Napier did not appear, and at daylight we retired to our hut and slept. We sat up on the night of the 27th April also, but Napier did not appear. On the morning of the 28th, just as we were retiring to rest, a convict came to say that the petty officer in charge of the tame elephants had discovered fresh footprints of Napier's at the stream where the tame elephants drank on their way to their dragging work, and asked if the elephants should be brought back to camp. I told him that the elephants should go to work as usual, and that we would come and see where Napier had been when we were sufficiently rested. After breakfast we started off with our rifles to look at the place where Napier had been seen and to arrange what we should do next. We followed along the elephant dragging path for about three-quarters of a mile, when on turning a corner in the path we found ourselves face to face with Napier. He entirely filled the path, was standing about 20 feet above us, and was 30 yards distant: we paced the distance afterward. I was leading, so knelt down and covered him with my rifle, while Brett got his rifle and was ready to fire. The bullet in my rifle had its point filed off, that in Brett's was an ordinary Service bullet. Ward could not get a shot, so stood behind and watched the effect of our shots. As soon as Brett fired I fired. Both our bullets struck Napier on the head, mine on the right joint below the bump which forms the base of the trunk, and Brett's a little to the left of the bump and above it. Ward says that clouds of dust came out of the elephant's head when he was hit, and that he at once turned round and retreated as fast as he could. I ran after him, loading my rifle as I went, and got a sight of the elephant on fairly level ground as he was running away, and fired an ordinary bullet horizontally into the middle of his body. This bullet must have pretty well traversed his body and penetrated his lungs, as we found, on following up the wounded animal, that he had been coughing up red froth and pieces of some internal organ which looked like lung. We followed him for over two miles by blood. At first he bled copiously from both head wounds and then from one only. Napier went straight towards where the tame elephants were working and we after him as hard as we could go. The tame elephants scented Napier when he got near, and the police fired two volleys of ball in our direction and at a close range before we could stop them, but fortunately did not hit any of our party. Napier turned back from the tame elephants and broke away into the forest between us and them, having turned back on his own tracks for a short distance, and on hearing us coming along his original track, he left it and turned away into the thick jungle. The bleeding ceased soon after this, so we left two convicts and two Andamanese to track him up as far as they could before nightfall and returned to camp. Naingul, the tracker returned in the evening to say they had followed up the elephant for about one mile further, but had not seen him.
We started at sunrise the next morning, the 29th April, with food to last us all day, with the intention of having a long day after Napier, as we had to return to Port Blair the following day. Sanderson says in his book that he has never known of an elephant hit in the head with the front shot, which has not been dropped dead, being followed up and bagged, but as Napier had also been wounded in the body and had bled so profusely, we hoped that we might come up with him and kill him. Our party consisted of Brett, Ward and myself, two convict trackers and two Andamanese. We walked rapidly to the place where Naingul had abandoned the chase the previous evening, and found that Napier had retreated along the same path as he had when Deputy Banger Hussain Ali had followed him up in April 1901. This track took us over a low watershed into a stream flowing north, up which Napier had gone. He had evidently lain down in a deep pool about half a mile up the stream: he had gone further upstream, as we found his tracks for about a mile more, when he turned off into some thick jungle on the left bank of the stream, whither we followed him. After following his tracks for about a mile in this jungle, I sent on Naingul and one Andamanese to go quietly on and see if they could locate the elephant, as our party of seven naturally made a good deal of noise going through the tangled undergrowth which characterises the Andamans forests. About half an hour after Naingul and the Andamanese returned, with the welcome news that they had heard the elephant, so we started after him once more, what wind there was being from him to us. After following his tracks for about half an hour we heard him moving on a slope above us, but could not see him. We waited for a few minutes for him to come and attack us, but as he did not, we cautiously advanced in his direction and we heard him again, and on reaching the top of a small ridge, saw his hind quarters distinctly in the jungle, so Brett and myself fired at him, as he was slightly below us. His hind legs seemed to give to the shots and he half sat down, exposing his head slightly. Napier then went away circling to the right, and Ward put two or three more shots into him as he saw him indistinctly moving through the undergrowth. These shots turned Napier down towards a rather open stream, which he had to cross to enter the dense jungle on its far side. I jumped down into the stream and saw Napier side on about 15 yards off, and getting a splendid shot at his ear, fired. The result exceeded my fondest anticipation. The huge animal leapt into the air, turned a complete somersault backwards and feel upon his head. Death must have been instantaneous. He never attempted to get up; but as his legs moved a good deal, we got on the bank above him and fired several more bullets into him to make sure that he was dead. A police orderly who was with me fired to or three snider bullets at the elephant at close quarters after he was dead, but they did not penetrate the skin, which shows that the volleys fired at Napier by the police could have done little if any harm. It was twenty minutes to ten when Napier breathed his last.

14 March 1916 in St Thomas district, Devon, England, aged 37

SS Margaret and Andrew, Littleham, Devon, England


1911: Overseas Military - Tientsin North China: William George Arthur Brett is aged 33, born in Thwaite, Norfolk


---
Return to Chris Gosnell's Home Page
Return to Chris Gosnell's Genealogy Page

If you have any comments, additions or modifications to the information on this page, please feel free to email me.


Created and maintained by:

chris@ocotilloroad.com